What is QLED? Exploring Samsung's Quantum Dot Tech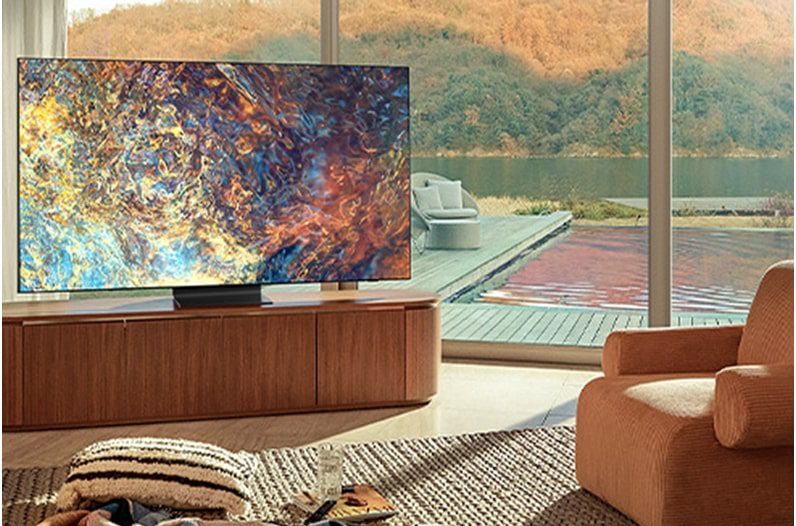 QLED joins a long list of acronyms in the display industry, but don't let its name fool you. It's nothing like its other LED-powered contemporaries.
What the Heck Is QLED?
QLED is a relatively recent addition to the acronym gang, having been let loose onto the market by Samsung back in 2017. While QLED is sold predominantly by Samsung, it's not exclusively sold by Samsung. You'll see other manufacturers like TCL, Hisense and Sharp with their own versions of QLED ever since Samsung opened up the trademark on QLED to be usable by other companies.
Just as OLED is used to describe a variety of different products that use organic light-emitting diodes, QLED is used to describe a variety of technology utilizing quantum dots.
That being said, Samsung is definitely the one doing the most work and innovation with this particular display technology.
As an acronym, QLED stands for quantum light emitting diode. Though, that's a little misleading. While it may sound like the technology is similar to OLED or microLED, QLED is actually more similar to LCD in the way it produces its image. The LEDs themselves are not quantum LEDS, instead, light from an LED backlight is passed through panel of material that includes a thin film of quantum dots. It's those quantum dots that are responsible for producing the different colors that come together in an image. This quantum dot technology had been in use by Samsung for years prior to being marketed as its own unique product. It's likely that Samsung opted to use the QLED acronym as it's an easier sale than saying the full name; although that just makes it easier to confuse it with OLED technology.
How Does a Quantum Dot TV Work?
All QLED TVs have a quantum dot filter that light passes through in order to create an image. The filter itself is a film of tiny semiconductor particles that can be precisely controlled for color output, as the color produced can be controlled via the size of the particle the light is passing through. Large quantum dots will glow red while smaller ones will glow blue. This is a direct replacement to the various red, blue and green color filters common to LCDs. Most QLEDs on the market today also use an aluminum compound to help the dots be even more vibrant.
The quantum dot filter greatly enhances the color production, contrast, and brightness of the TV, allowing QLEDs to stand head and shoulders above their non-quantum dot LCD counterparts. The introduction of new materials have also helped gradually improve on that performance over time as well. Samsung has also introduced its own technological innovations that have further changed how a QLED TV works. Samsung's Neo QLED TVs use a MiniLED backlight that help reduce blooming on the screen, while also upping the contrast, brightness, and color control greatly. Other Samsung QLED TVs, like the recently released QN990C, also come with an AI-based Neural Quantum Processor that is able to intelligently upscale content to 4K and even 8K resolutions while also providing greater control over backlight dimming.
QLED vs. OLED
The biggest difference between QLED and OLED how they handle light production. OLED is "emissive," meaning the pixels emit their own light, while QLED is "transmissive" in that it relies on an LED backlight. The latter is how Samsung is using quantum dot technology now. That's why on Samsung's QLED TVs, you'll find a film of quantum dots between the LED backlight and the LCD layer.
The reason why QLED exists is because Samsung isn't convinced that OLEDs are universally better. The company says that the quantum dot technology includes a higher light output and better color reproduction than equivalent OLEDs, especially in HDR environments.
In fact, Samsung is prepared to crack out the spec sheet in its fight against OLED. Samsung claims a boost in peak luminance up to 4,000 nits in highlights, which far outstrips a lot of OLEDs on the market currently. This, according to Samsung, makes QLED well suited to bright environments, like the living room. This also makes them theoretically better at producing HDR content compared to an equivalent OLED TV.
There are a few design benefits to OLED over QLED. Those who have seen LG's Signature OLED TV W will know exactly what that means, with it boasting a thickness of just a tenth of an inch. That's significantly thinner than the quarter-inch thickness of the flagship Samsung Q9.
There's also the fact that OLEDs use individually lit pixels to provide an image, allowing them to provide far better contrasts and far deeper blacks, two things a QLED will likely never be able to beat.