The Install Spot compares 4k to 8k. Whats the big difference?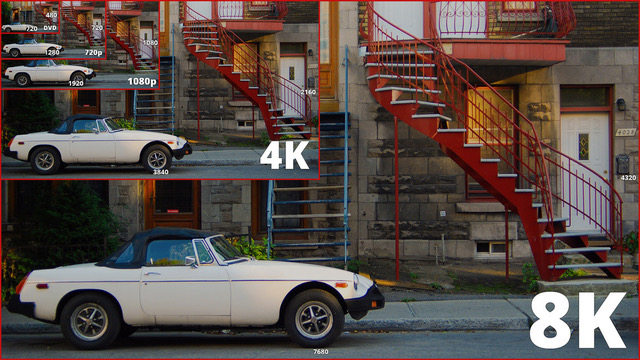 It may not be essential, but many of us are eager to get one of the best TVs to match our needs, whether that be for the latest hockey game or to watch Paw Patrol with the kids.
Created and distributed by many popular brands such as Sony, Samsung and LG, both the 4K and 8K TVs are superb quality, luxury televisions that go above and beyond the standard accepted visual and detail range. TVs, like any other growing technology, are constantly pushing new and innovative versions to market.
Millions of TV lovers sit waiting for the newest models to arrive, making the one before seem obsolete and outdated. In this regard, there's now a sudden battle between 4K and 8K TVs – which one is best and which one actually offers the highest quality. In honesty, it all depends on your own requirements.
You may have heard good and bad things about 4K and 8K televisions, but what's the real difference, and which one is better for your lifestyle? Here's the low down on both popular televisions.
4K Televisions
4K televisions are relatively new to the technology scene. Also known as UltraHD, they have 4 times the amount of resolution of Full HD televisions. What's amazing about the higher resolution of the 4K is the exceptional depth, color perception, and life-like appearance of the images on the screen.
4K TVs have been on the market for quite a while now and have done exceptionally well. Because the 8K TV, curved TVs, and other newer tech has now entered the electronics section, the 4K TV has become a more cost-effective option. Although, if money is no object, then this doesn't really matter.
Resolution: 3,840 x 2,160 pixels; a whopping 8 million in total
You can purchase a 4K television but it doesn't mean all the content you watch will be in 4K. This is because the initial distributor of the content needs to develop the show or movie in the 4K format, which many still don't. So the image will still be crisp and generous (because most 4K TVs need to be at least 60 inches wide), but you're missing out on that amazing capability. One great thing, however, is that many networks and platforms are increasingly creating UltraHD formatted content, such as Netflix.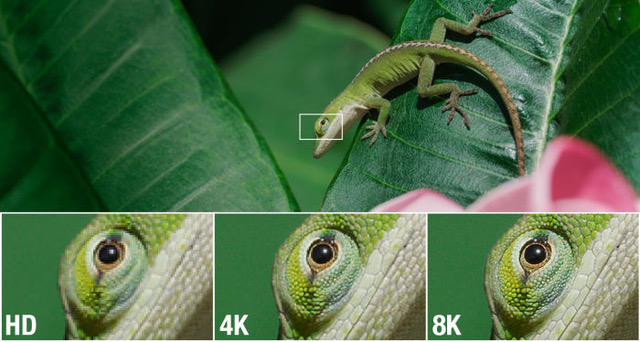 8K Televisions
8K TVs are the 'new kid' to the technology block. They're built to have twice the resolution as 4K televisions. Although it's been predicted that 8K TVs will only hold a little over 3% of the TV market by 2024, there is high optimism that they will surpass expectations like the 4K television did in its time.
What do you get with an 8K television that you don't with 4K? The 8K also delivers an HDR component, meaning high dynamic range. It means nothing is lost during transmission from camera to screen. Viewers are getting every shadow, every drop of rain, and every possible color that the original capturer has seen – all from their living room couch.
Resolution: 7,680 x 4,320 pixels; well over 16 million… and keeps growing as your TV does.
If you're fascinated at seeing Robert Downey Jr. and the gang take on Thanos on a 95 inch TV, only an 8K will let you give every little detail, and each glistening tear far more justice than any 4K can in that size range. Remember, as the TV gets bigger, you need more pixel range in order to sharpen the display and image. Of course, if size doesn't matter and you classify yourself with the humbler of folk, a 60 inch TV with the fantastic and almost unmatched quality of the 4K is nothing to complain about.
An issue that may arise with the 8K TVs is their relative newness and the lack of formatted content that may be available to provide the full 8K experience to TV owners. This issue is less frequent with 4Ks and it's predicted that streaming platforms and cable networks will hopefully adjust their formats to the budding technologies. It's just going to take a little time. Or maybe a lot. Most movies being created are still shot to format to 2K televisions, so there will definitely be a wait. However, it doesn't really matter if the format is 8K, because Sony and other makers are pushing the boundaries and building tech that defeats all other specifications regardless.
Interested in learning more about what 4K and 8K have to offer and which one is best for your price point and lifestyle? Reach out for a conversation today.